The 2017 Connecticut River Review is now available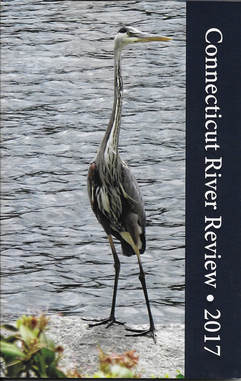 The 2017 edition of the Connecticut River Review has arrived from the printers. Members who attended the CPS annual Picnic August 13th received their advance copies there. Members who are up to date on their annual dues should expect to receive their copy in the mail within the next few weeks. Co- editors Pat Mattola and Ginny Lowe Connors have done an outstanding job. Cindy S. Mercier created the cover design. Additional copies will be available, contact Ginny at this link:
Ginny Connors
SUBMISSIONS are closed
Connecticut River Review is the official poetry journal of the Connecticut Poetry Society, the only statewide poetry society in Connecticut. CPS was founded in 1975 and is a member of The National Federation of State Poetry Societies (NFSPS). Connecticut River Review solicits poetry nationally and internationally for publication in the annual journal during a
reading period of January 1 – April 15.
The journal also publishes winning poems from several CPS poetry contests.
CPS members as well as non-members are invited to submit poems for consideration. Book reviews are solicited by the editor. The editors are sole arbiters of which poems to publish. In general, the selection standard is excellence in poetic form. Poems may be on any topic. The editors welcome new voices as well as celebrated poets. Poets published in CRR are selected from all over the country as well as abroad. CRR accepts simultaneous submissions, but asks for immediate notice of acceptance elsewhere.
Submissions should be unpublished original poems, no translations, typed, single spaced, with complete contact information on each poem. CPS members as well as non-members are invited to submit poems for consideration. Book reviews are solicited by the editor.
Submit Electronically
Please go to
www.connecticutriverreview.submittable.com
and upload a single document containing your poems (one poem per page). You will have room on the submission form for a brief bio. Send 3-5 poems.
Submit by Mail
Send 3-5 poems, not to exceed 5 pages. Please include a cover letter.
Enclose a SASE for notification only; no poems will be returned.
Reading period: January 1 to April 15
Send submissions to:
Connecticut River Review
P.O. Box 516
Cheshire, CT 06410
Poets whose work is published receive one copy as payment, and retain copyright.
CRR is published once annually, in an August/September edition. It is distributed to all CPS members as a membership benefit, as well as selected universities, schools, and libraries.
---
Poems nominated for Pushcart Prize

Connecticut River Review has nominated the following poems for the 2017 Pushcart Prize (from the 2016 issue).

Daddy's War by Esther Whitman Johnson
Triptych by Antonia Lewandowski
Sepia Girl by Sarah E. Page
Mirage by Rex Moon
Do Not Disturb by Peter Ludwin
Timescape: The Age of Oz by Joanna Sit

The Pushcart Prize was named among the most influential projects in the history of American publishing by Publishers Weekly. "A truly remarkable collection of the finest small press poems, essays and short stories." –Booklist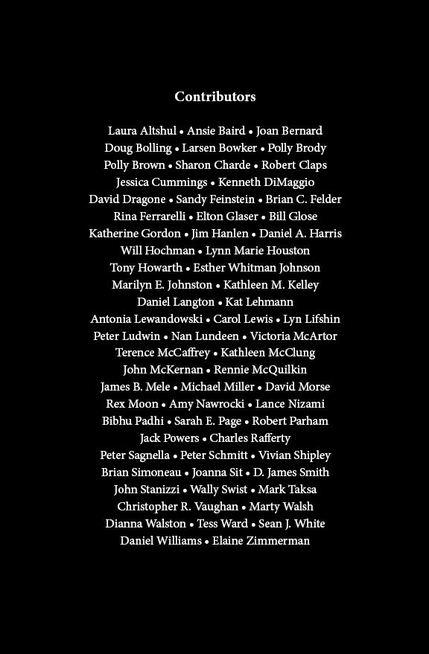 Connecticut River Review 2015, spectacular issue now available.
Give a gift to someone special! Send check for $15 ($12 & $3 shipping) made out to CPS to:
Connecticut River Review, Pat Mottola, Editor, P.O. Box 516, Cheshire, CT 06410.



Editor: Pat Mottola, Cover Design:
Aaron Caycedo-Kimura,
Cover Photo: Marjorie Muzyczka

CPS members will receive their copy in the mail in September.

Additional copies can be ordered by sending a check made out to the Connecticut Poetry Society for $15 ($12 + $3 shipping- USA only)
to The Connecticut River Review
PO Box 516
Cheshire, CT 06410

Please include your mailing address
Orders Outside USA please email for shipping charge.


Connecticut River Review 2016
Pushcart Prize Nominations

Connecticut River Review has nominated the following poems for the 2016 Pushcart Prize:

"White Star" by Deborah Allbritain

"Some Houses" by Carol Grametbauer

"Ringing the Quarters" by Tony Howarth

"Story Dress" by Mark Taksa

"Factories, Smelters, Spindles" by Susan C. Waters
"Just North, Spring Leans into a Valley Like a Mennonite Woman Opening Her Dress" by James Owens

"These contributors are among the many who make our journal a source of great pride to our organization (CPS) and an inspiration to our readers." –Pat Mottola, Editor

The Pushcart Prize was named among the most influential projects in the history of American publishing by Publishers Weekly. "A truly remarkable collection of the finest small presss poems, essays and short stories." –Booklist



Long River Run


SUBMISSION GUIDELINES

Long River Run is currently on Hiatus. Please check this location for information pertaining to its publication and guidelines. Long River Run is a members only journal of the Connecticut Poetry Society, only members in good standing are allowed to submit poems to it.


CPS does have a members only Poetry Post Web Page: click here

---